Increase your revenue in any situation thanks to proRMS – a fully featured Revenue Management System. Get all crucial information in one place, optimize your prices and automate daily tasks. Enjoy ease of use as proRMS is intuitive and integrates with other hotel software.
Your advantages with proRMS
You know what you do
You know your hotel best and nothing
will ever change it. We want to add our
expertise in revenue management
and a tool to improve your work.
Make the best offer
Use proRMS to automatically build the
best price recommendations and
restrictions for individual segments,
taking into account your competition, historical reservations and local situations.
Enjoy flexibility
Adapt proRMS to your pricing policy with ease. Its algorithms (developed by renowned revenue managers, mathematicians and data engineers) ensure flexibility of use.
Earn from other sources
Increase your revenue from all revenue
centers with proRMS. Optimize your
TrevPar.
Understand decisions
Get an insight into your hotel's customers and surroundings thanks to complex analyses, easy access to data and quick report building.
A Revenue Management System is not only for Revenue Managers! If you are one, proRMS will boost your work. But if you aren't, you can still use it to improve your hotel revenue. Try it out and see what works for you!
As a revenue manager
Enjoy proRMS's in-depth analysis and simulations with all available data and built-in indicators. Plan and verify your business basing on trends and historical data summaries – all via drag&drop and in real time. Benefit from the most extensive analytics on the market. Use a professional tool for professional people.
As a supervisor
Show your superiors how effective you are! Use proRMS to keep all the important data at hand. Define reports, even the most complex ones, in minutes. Alerts and automatic operation will save your time for more important tasks.
As an owner
As a businessman, you want to know results without going into details. You can get them in an easy and intuitive way. When you own a number of hotels, you will appreciate the multiproperty function.
For all hospitality properties
For independent hotels
Benefit from a built-in price shopper
and data on your competitors
For hotel chains
Manage and control many places
effectively with the multiproperty feature
For conference hotels
Build optimal offers with included group pricing and an extensive forecast
For business hotels
Focus on optimizing TRevPAR (rather
than RevPAR) through an in-depth trend analysis and easy creation of reports broken down into segments, room types, revenue centers and key indicators with relevant external factors
For resort hotels
Take advantage of software that manages recommendations, publishes optimal offers and analyzes all the factors you might miss
For apartments and mobile homes
Enjoy a system that supports the management of such an unusual business model while keeping a level of flexibility and efficiency similar to hotels.
Smooth integration, intuitive use, autopilot
If you want to enjoy proRMS's benefits to the fullest, it needs integration with your PMS. Don't worry about data security – our servers maintain the highest GDPR-compliant safety standards. Check our PMS/CRS/ChM integration list to speed up integration. Your system isn't on the list? We will make one and start right away!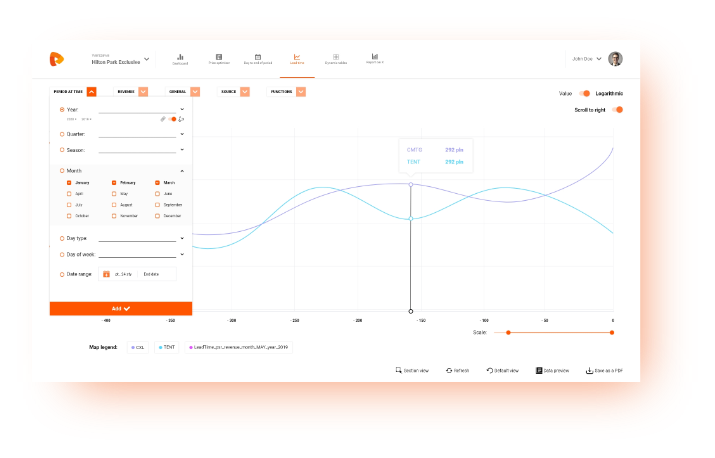 Your time is important, so we made the system as intuitive and user-friendly as possible. Configure the views to suit your needs. Regardless of your hotel position, you can quickly adjust the system to meet your expectations.
Speed up your work with autopilot which automatically calculates recommendations and publishes them on your sales channels. You can always alter the calculation parameters, overwrite recommendations or change the mode to semi-automatic or manual.