Your revenue management console
proRMS consists of modules which are organized around the aspects of revenue management: price optimizer, group valuation, analytics tools, forecast, virtual RM and configuration.
Everything you need to optimize revenue in one place
Check all important information in one view. Main revenue indicators – their dynamics, evaluations and trends. Easily compare. Be informed in seconds.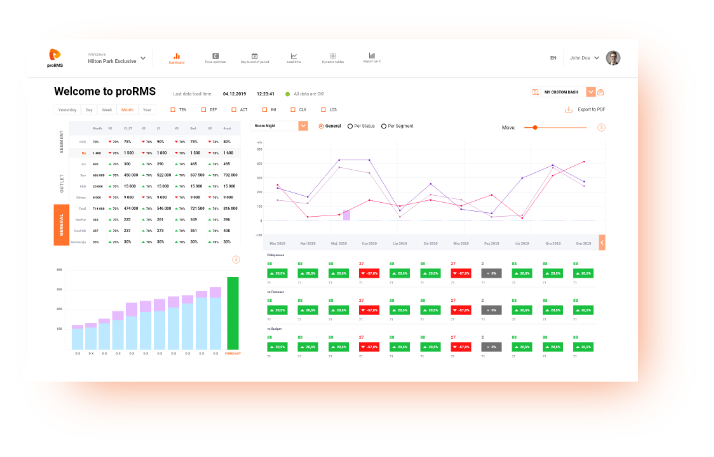 Optimize all your revenue centers.
Keep an eye on all market segments and manage them with dynamic price lists
Optimal RestrictionMix Management – your dynamic pricing and dynamic restrictions can help you avoid diluting your ADR.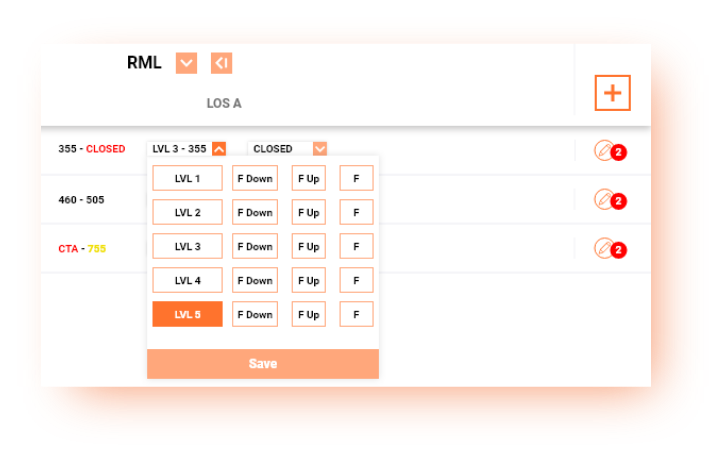 Yield room types individually, set different behaviour, restrictions, scenarios.
Optimal BusinessMix Management – proRMS performs a thorough analysis of your current customer segments considering guest spending on ancillaries such as F&B and other revenues center.
Be aware of your surroundings
Monitor rates of your competitors, a built-in price shopper will deliver information about selected hotels.
Use competitors' prices to automatically adapt your own, build strategies based on this data.
Follow local events, let the system interpret their impact on recommendations and occupancy. Be informed about trades, concerts, sports or cultural events that could influence your occupancy.
Ergonomics is important for you to know how to use the system. To use it fully. Adapt it to suit your needs
Create complicated reports in a minute by simply using drag & drop. All important hotel indicators and data at your service
Understand the recommended prices. See the whole context of recommendations.
See trends and be prepared for offer changes.
Use the registry of predefined reports, change them, build your own in the easiest possible way.
Use all available data, functions, indicators, dynamic rules to create the most complex reports in minutes.
You decide if recommendations are distributed automatically over your PMS or Channel Manager or they require your confirmation.
You can easily override recommendations or set the rules of overriding.
Group quotation. Create the best recommendations and offers for groups of guests.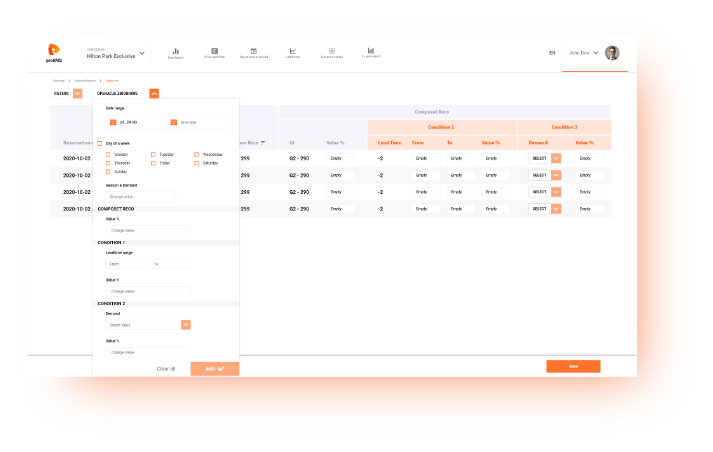 Set boundaries and ranges of tolerance so that the system can flexibly operate within prescribed limits of recommendations. Take control over algorithm modeling parameters like lead-time, competitors, occupancy and more
.
Analyze pickups to better understand
market dynamics.
Analyze trends to understand market, segments, guests behaviour, extract anomalies and rules. Analyze the paths of evolution, compare by years or other intervals.