Win the most
Control all your revenue centers and optimize TRevPAR. Add new centers as you grow.
Take control
Control all factors that influence revenue in your hotel. Turn decisions into profit
Don't guess, predict
Predict competition actions, guest behaviour, market trends. Take actions and stay on top.
Boost your revenue management with us
We are Qualpro, and Revenue Management is our specialty. Base your work on our 20 years of experience in the finest hotel chains and independent hotels. Benefit from proRMS, a product that is an essence of our knowledge.
"proRMS has changed our approach
to revenue management, equipping our team with a powerful tool to build an
effective long-term strategy."

General Manager – City hotel, Wroclaw
"Qualpro's substantive support helped us design an optimal pricing policy, automated by the amazing proRMS system. Taking into account the dynamics of competition in the recommendations has had a positive effect on our revenue. Until now, manual analysis of all these factors has been heavily limited by the lack of time and the number of locations of our facilities."

CEO – Mobile home operator, Croatia
"A huge saving of time, nerves and mistakes. Access to reports that give you in-depth knowledge of the situation to make the right decisions. Excel was put aside."

Revenue Manager – Conference hotel
proRMS gives you control
proRMS is a fully featured Revenue Management System. A single place that lets you control all yours revenue centers, competitors, events or groups requests. Optimize and automate your pricing policy, support your daily decisions with proRMS. The power of cloud computing, statistical algorithms and AI for one purpose. Boost your revenue thanks to proRMS.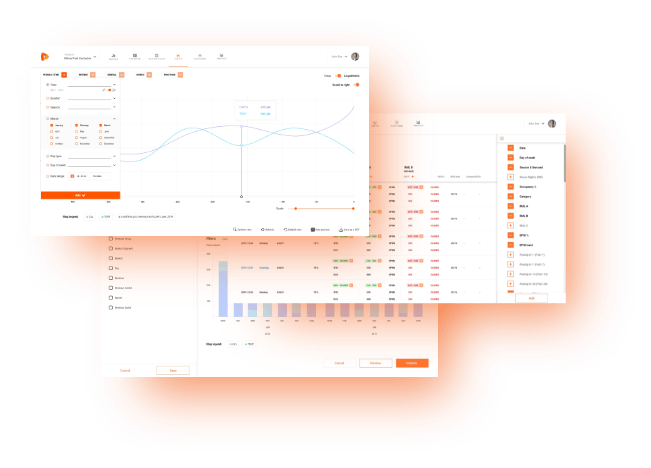 Hotel chains • Multi Properties • Independent hotels • Hostels • Apartments • Mobile homes • Resort hotel
Let technology boost your work
Stay in control
Decide which factors are important. Have full control over settings OR set the system to automatic mode and let it decide.
Outrun competition
Find out about your competitors. Track their actions. Do better. Cut your slice of market share.
Group pricing made easy
Get support and recommendations for group valuation. Best-in-class forecast algorithms will do the magic. Make wise decisions.
Events worth knowing about
Collection of all events in your area available in the system. Automatically. Our AI will predict the influence and recommend actionable steps. Be informed.
Optimize your TRevPAR
Monitor and control all revenue centers. Optimize TRevPar instead of only RevPar.
Predict customer actions and act first
Analyze reservations in detail by segments and markets, discover trends and differences. Turn precise offers into profits. Increase efficiency.
ROIBOS is a startup in the tourism sector, and it is revolutionizing and redefining the sector. Roibos is the hotel distribution marketplace that allows hotels connect directly with over 35,000 travel operators around the world,...
read more